Déterminants socio-économiques de la production de lentille de terre [Macrotyloma geocarpum (Harms) Maréchal & Baudet] au Bénin
Kersting's groundnut [Macrotyloma geocarpum (Harms) Maréchal & Baudet] is a popular legume in Benin, whose level of production has remained stagnant, or is declining, particularly in the recent past partly due to abandonment by some farming communities. The objective of this study was to identify socioeconomic and cultural determinants of the production of M. geocarpum and reasons for its abandonment by producers in Benin. A survey was carried out through focus group discussions and face-to-face interviews on a sample of 103 Kersting's groundnut producers, all identified through the ''snowballing'' sampling approach, across 21 villages in five producing communes of the Zou department. Production of kersting's groundnut was determined mainly by age, gender and social class of respondent, distance from house to field, support from extension, ethnicity and land size. On the other hand, its production abandonment was mainly due to limited access and control of resources by women; limited access to education and non-involvement of women in leadership positions; climatic disturbances, shortage of casual labour and lack of financial support towards its production.
La lentille de terre (Macrotyloma geocarpum) est une légumineuse populaire au Bénin, dont le niveau de production est resté stagnant, voire en légère baisse au cours de la dernière décennie. L'objectif de cette étude était d'analyser les déterminants socio-économiques et culturels de la production de M. geocarpum au Bénin. Une enquête a été menée au moyen de discussions de groupe et d'entretiens individuels sur un échantillon de 103 producteurs de lentille de terre identifiés grâce à l'approche d'échantillonnage « boule de neige » à travers 21 villages répartis dans cinq communes productrices du département du Zou. Il a été observé que la production de la lentille de terre était déterminée principalement par l'âge, le sexe, la classe sociale, la distance de la maison au champ, le soutien de la vulgarisation, le groupe ethnique et la superficie emblavée pour la production. D'autre part, l'abandon de la production était principalement dû à un accès et un contrôle limité des ressources par les femmes ; accès limité à l'éducation et non-implication des femmes dans les instances de prise de décision ; les variations climatiques, la pénurie de main-d'œuvre occasionnelle et le manque de soutien financier à la production.
Fichier principal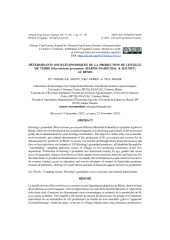 236791-Article Text-572066-1-10-20221124.pdf (129.38 Ko)
Télécharger le fichier
Origin : Publication funded by an institution