Building interdisciplinarity in environmental research : developing a research program about "interrelationship between outdoor activities and wildlife"
Construir interdisciplinaridad en las investigaciones sobre el medioambiente :el desarrollo de un programma de investigación « deportes de naturaleza y fauna salvaje »
Construire l'interdisciplinarité dans les recherches sur l'environnement : la mise en œuvre du programme de recherche « sports de nature et faune sauvage ».
This article deals with the construction of an interdisciplinary research program about interrelationship between outdoor activities and wildlife in the Bauges mountains (Alpes). This research program is build on a twofold partnership : a partnership between researchers and local stakeholders, and a partnership between researchers coming from different disciplines, social sciences and ecology. The article emphasizes pros and cons of the research project coconstruction. It presents the exchange views between the different collaborators on three main subjects : i) the research protocol which coordinates research on the field and included elements useful for stakeholders decision making ; ii) methodologies which crossed different qualitative, quantitative and spatial datas (GPS) ; iii) concepts used in the research such as the "landscape" concept. The reflective analysis allows identifying some elements favorable for an interdisciplinary research proceeding bringing together different collaborators.
Cet article analyse le développement d'un programme de recherche interdisciplinaire visant à mieux connaître les interrelations entre les pratiquants de sports de nature et la faune sauvage sur le massif des Bauges (Alpes). Ce programme de recherche est construit sur un double partenariat qui est ici analysé : il s'agit d'un partenariat entre chercheurs et praticiens de terrain et entre chercheurs venant de différentes disciplines, les sciences humaines et sociales et l'écologie. L'article revient sur les avantages et limites de la co-construction de ce travail de recherche. Il présente une analyse réflexive des échanges qui ont eu lieu entre les différents partenaires en ce qui concerne : i) la définition du protocole de recherche afin que le travail de recherche soit coordonné sur le terrain et apporte des éléments utiles à la prise de décision des gestionnaires du territoire ; ii) les méthodes mobilisées qui ont permis de croiser différentes données qualitatives, quantitatives et spatialisées (utilisation de l'outil GPS) ; iii) les concepts discutés au sein de la recherche telle que la notion de paysage. Ce retour d'expérience permet d'identifier des éléments favorables au bon déroulement d'une recherche interdisciplinaire et multi-partenariale.
Fichier principal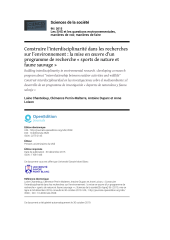 Chanteloup et al_2015_Interdisciplinarité_pg sports de nature_Openedition.pdf (382.91 Ko)
Télécharger le fichier
Origin : Publisher files allowed on an open archive