ChloroKB, a cell metabolism reconstruction of the model plant Arabidopsis thaliana
Can we understand how plant cell metabolism really works? An integrated large-scale modelling of plant metabolism predictive model would make possible to analyse the impact of disturbances in environmental conditions on cellular functioning and diversity of plant-made molecules of interest. ChloroKB, a Web application initially developed for exploration of Arabidopsis chloroplast metabolic network now covers Arabidopsis mesophyll cell metabolism. Interconnected metabolic maps show subcellular compartments, metabolites, proteins, complexes, reactions, and transport. Data in ChloroKB have been structured to allow for mathematical modelling and will be used as a reference for modelling work dedicated to a particular issue.
Peut-on comprendre comment fonctionne réellement le métabolisme des cellules végétales ? Un modèle prédictif intégré à grande échelle du métabolisme des plantes permettrait d'analyser l'impact des perturbations des conditions environnementales sur le fonctionnement cellulaire et la diversité des molécules d'intérêt fabriquées par les plantes. ChloroKB, une application Web initialement développée pour l'exploration du réseau métabolique du chloroplaste d'Arabidopsis, couvre désormais le métabolisme des cellules du mésophylle d'Arabidopsis. Des cartes métaboliques interconnectées décrivent les compartiments subcellulaires, les métabolites, les protéines, les complexes, les réactions et le transport. Les données de ChloroKB ont été structurées pour permettre la modélisation mathématique et seront utilisées comme référence pour les travaux de modélisation consacrés à une question particulière.
Fichier principal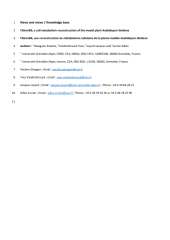 Gloaguen_et_al_ChloroKB_CRAS_2021.pdf (806.28 Ko)
Télécharger le fichier
Origin : Files produced by the author(s)